For its tenth annual film series put on by the Theater, Film, and Media Studies department, St. Mary's has been welcoming some truly world-renowned artists to its halls. Black Films Matter: The L.A. Rebellion focuses on the school of filmmakers that came out of southern California in the 1970s; the movement known as the L.A. Rebellion and as the Los Angeles School of Black Filmmakers was constituted largely of black independent filmmakers, including the three guests coming to SMCM: Zeinabu Irene Davis, Haile Gerima, and Charles Burnett.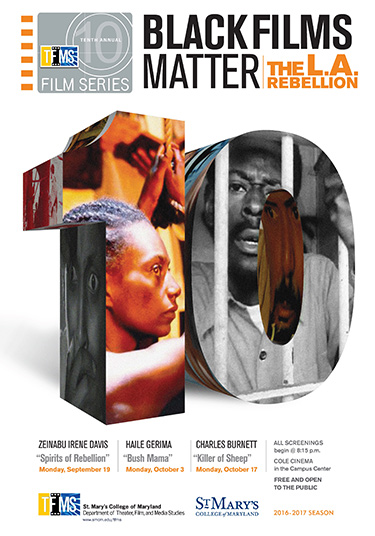 For those entrenched in the world of filmmaking, these names need no introduction– but for rest of the general public who came to the showing on September 19 with only an appreciation for the arts and an interest in the history of minority filmmakers, the first film served as a fitting introduction to the movement and its constituents. With Spirits of Rebellion: Black Film at UCLA, Zeinabu Irene Davis is the first filmmaker to document the film movement itself.
Spirits includes reel after reel of interviews with the men and women who made up the Rebellion, cut together and narrated by Davis herself. Davis is considered and considers herself one of the children of the movement. One filmmaker interviewed in Spirits, Clyde Taylor, called her "the last ember of the Rebellion."
The documentary emotes the feeling that as both subject and filmmaker, Davis is desperately trying to document the vestiges of this vibrant arts community before they are lost to time. A notable feature of the film centers on the loss of filmmaker Teshome Gabriel, a man who Davis and many of the people interviewed for Spirits called a mentor; Gabriel, a prominent member of the movement, passed away before he could be interviewed for the documentary.
The clips that Davis' film brings together show a long and storied arena of film that, without her care and attention, might have continued to go unrecognized. The school of film is known for focusing on the day-to-day lives of urban working-class African-Americans, incorporating larger themes of struggle and social justice while also trying to embody what it was to be black in a post-Watts-riots Los Angeles. The films are experimental and cross boundaries of subject matter and filmmaking in general. Scenes from Charles Burnett's Killer of Sheep (1978), and Haile Gerima's film Bush Mama (1975), both films to be shown in the Black Films Matter series, were featured in Davis' documentary, alongside the work of innumerable other filmmakers.
Davis took care to feature many of the women who made up the movement, emphasizing that the women of the Rebellion were some of its strongest creators, and those who were most likely to collaborate with one another. One of the films featured came from the early 1990s, and was the first nationally distributed film directed by a black woman: Daughters of the Dust (dir. Julie Dash 1991) has had recognizable impact on the artistic world as it stands today– as an audience member commented during the Q&A session, Beyonce's Lemonade was largely visually inspired by Daughters of the Dust as well as other films made during this time.
Davis also stressed that, though the movement was largely made up of young African, African-American, and Caribbean artists, "the L.A. Rebellion could not exist if it had not been for other interested white, Latino, Asian-American filmmakers."
During the Q&A with Zeinabu Irene Davis that followed, she spoke to the state of black film and the film industry in general. She said that the industry needs women and people of color at every step of the process– not just directors and writers and actors, but film critics, entertainment lawyers, agents, casting directors, and even academics to write about it all. She was happy to see a crowd out to see her film, and said that we at St. Mary's were the first college crowd to play audience to Spirits of the Rebellion; she encouraged everyone there to continue to support independent film. Davis stressed that Black cinema is not what it could have been if it had received the resources, recognition, and funding that it deserved. "I make what I can," she said, "but sometimes I just need to feel not so isolated, and broken."
Davis is feeling somewhat optimistic, however, about the doors opening up for black creators today– with the rise of alternative media sources, like internet TV and the open avenues for self-funding and crowdsourcing, as well as the sheer volume of content needed to keep today's audiences satisfied, Davis said that there will be room for more black voices, Asian voices, queer voices, etc., simply because the industry needs the material.
She highlighted some of her favorite projects coming out right now: Moonlight (dir. Barry Jenkins 2016) and the Ava-Duverney-directed show Queen Sugar airing on the Oprah Winfrey Network, both productions highlighting queer black stories. When asked by an audience member for her thoughts on the popularity of films centered on slavery in mainstream Hollywood today, Davis disagreed with the sentiments of some black artists who say they're tired of seeing films about slaves– "We haven't begun to talk enough about 400 years of slavery," Davis said emphatically.
The Black Films Matter TFMS film series has run its showings on Sept. 19, and Oct. 3, but at time of writing there is still time for students and members of the SMCM community to attend the Oct. 17 showing of Killers of Sheep, at 8:15 pm in Cole Cinema. Charles Burnett, a highly, highly acclaimed member of the L.A. movement who has been called the nation's "most gifted black director," will be here to showcase his 1978 film. Please take Zeinabu Davis' advice, and come out to support independent film.