What do the departments of art education and environmental studies have in common? The answer is obviously Tiny Houses.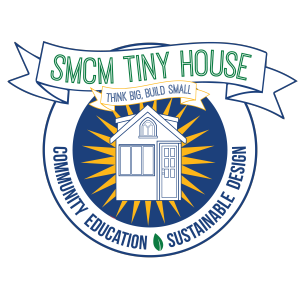 For the fourth time, the two SMCM entities are coming together for "The Tiny House Project." The course is cross listed as ART369 and ENST390, taught in conjunction by one art and one environmental studies professor, Carrie Patterson and Barry Munchnick respectively.
These two professors work together to create a learning experience unlike any other. "I think that working with both Barry and Carrie was amazing because they both provided  valuable information from both an Environmental Studies and Art viewpoint," explained SMCM senior Samantha Goodrich, who took the course last semester. She continued, "I really enjoyed this class because it looked into a modern perspective of sustainable living. 'Tiny House' was truly an amazing class…[it was] an incredible opportunity to work with like-minded individuals who care and want to learn what they can do to help the environment."
On its surface, the course is about art education with a focus on the environment, but "Tiny House" has many more layers than that. There are elements of community building, and teamwork as well. Its official listing promises students will "explore the foundations of and current practices in art education." They achieve this end through typical lectures and readings, but on top of that, they also work with members of the local community to build a sustainable house, giving participants a hands-on demonstration of art education.
More so than the completed product, Professor Patterson is looking forward to the process of creating the tiny house. She explains, "The most exciting aspect of this class is to hear how excited SMCM students are to help their community, gain skills like using a nail gun or chop saw, and how the content of the course has helped shaped their ideas for their own futures." Senior Mike Becraft, who took the class last semester, agreed with Patterson, saying "[Tiny House] was my favorite class. I really enjoyed the hands on experience, especially since I was one of the more seasoned builders. It was an opportunity to lead and teach my peers."
The course initially began on a modest budget. Funding was allocated from the Mellon Foundation Grant for Civic Engagement, as well as President Jordan's office. This year should unlock new possibilities according to Professor Patterson. "[We] received numerous and generous donations from individuals and businesses who want to contribute to the project—so our final house will be full of beautiful salvaged wood, repurposed windows, and unique specific architectural details."
The conception of the course came after a realization by Professors Muchnick and Patterson that there were immense "similarities between disciplines." Patterson elaborates on the origins of "Tiny House": "like magic with a ton of hard work, a timely course was created that combined community, design, art education and sustainability. We knew that we could build the structure at the Tech center and partner with high school students in the foundations program… We knew that our students could reteach what they were learning to elementary school students in the Lexington Park After School Program."
"Tiny House" in its third iteration has become a very important and popular course to the St. Mary's community. That fact is made especially evident by Patterson. Citing the current political climate, she spoke about the crossroads Art Education faces: "All of the after school programs that we work with that serve over 120 children in St. Mary's county who qualify to receive reduced or free meals through the school could very well be eliminated by the next federal administration. Our time with them is precious and we do not take it for granted."
The opportunity to help people and take steps to save the environment make it a highly desired course for motivated students. Becraft continues, "I really enjoyed learning how I could transfer a sustainable movement to a community. The class sparked my interest in tiny homes, which is now the focus of my [St. Mary's Project]."
Patterson says that ART369 and ENST390 will be taught again, just "not in this particular way." The class always satisfies the "E-Law" core requirement. As of Nov. 16, there are no openings in the course. However, interested students should be observant in case a spot opens up. Just be aware if you get in, Patterson warns: "this class requires 25 hours of community service learning so we want students who are fully invested in the task at hand."